Last spring, we posted about the USDA Agricultural Marketing Services' proposed animal welfare standards for organic meat. After an extensive comment period and USDA review, the final Organic Livestock and Poultry Practices (OLPP) rule was signed and published on January 19th. It named March 20th as the effective date.
That was before Inauguration Day.
As now stated on the Federal Register website, the "Regulatory Freeze Pending Review" memorandum delays the effective date for 60 days for the rule. The new effective date is May 19th.
In his Forbes article entitled "Organic's New Animal Welfare Standards Are In Jeopardy," Contributor Michael Pellman Rowland questions whether the rule will also be impacted by the Trump Administration's '2 for 1' executive order. The order states that for every new regulation, two existing regulations must be eliminated.
As Rowland notes—with or without the 2 for 1 order—there is room for uncertainty over the future of OLPP. Vocal opposition from organizations like the National Pork Producers Council (NPPC), the National Cattleman's Beef Association (NCBA) and industrial egg lobby groups questions whether the USDA has the authority to oversee animal welfare standards in the food industry.
Although the future of OLPP could be up in the air, two things are clear. First, animal welfare is a top concern for organic buyers. Second, current organic standards have little to do animal welfare despite labeling terms that suggest otherwise.
Rowland reports most consumers who buy organic assume that animals were pasture-raised with plentiful access to the outdoors. Not true. In many instances, animal products sold under the USDA organic label are raised in factory-farm-like conditions. This makes it difficult for farms adhering to higher, more human standards to compete. Their costs are higher.
This USDA infographic provides a good overview of the OLPP rule and implementation timeframe.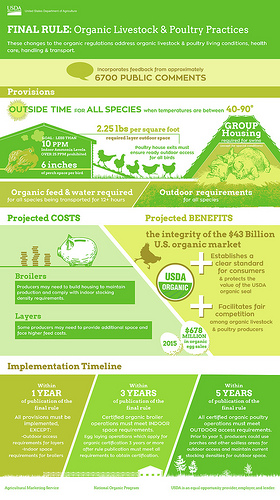 Stay tuned. We will be keeping close tabs on the status of OLPP.